The venue of Castle of Kings game is no longer in the Buda Castle.
Enjoy a gripping, fantasy-themed live board game in Buda Castle, Budapest: The Castle of Kings!
Castle of Kings is a unique, life-sized board game, where the game meets reality: the players are the pieces themselves on the board. The game is suitable for 2-6 players at a time, and can be fun for the whole family between the age of 6 and 90.
Story of the Game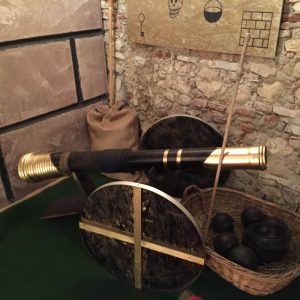 The royal couple of a prosperous empire has been kidnapped by an evil sorcerer. The princess offered half the kingdom for anyone who saves her parents.
Now it's your turn to gather your allies and save the king and the queen – but beware: you have only 20 steps to break the 3 locks and achieve your goal!
Opening Hours
Monday: 10am – 11 pm
Tuesday: 10am – 11 pm
Wednesday: 10am – 11 pm
Thursday: 10am – 11 pm
Friday: 10am – 11 pm
Saturday: 10am – 11 pm
Sunday: 10am – 11 pm
Prices
Adults:
2-3 Players: EUR 35
4-6 Players EUR 42
Student discount: if there is at least 1 student in your group, you are entitled to have 10% discount
Students:
2-3 Players EUR 31.5
4-6 Players EUR 37.8
Terms & Conditions
By booking the game in the booking form, you accept the T&C's of the Castle of Kings Game. These are the following:
The game is recommended for players of 6+ years of age.
Taking photos/ videos is not allowed inside the game area.
No player under the effect of alcohol or drugs will be allowed to participate in the Game. In such case no refund will be issued.
Players are responsible for any damage made in the set/objects of the game.
The rules of the game will be presented by the game master before the game starts. Ignoring them may cause you to be banned from the game, without any refund.
In case of no-show, no refund will be given.
The venue of Castle of Kings game is no longer in the Buda Castle.