The Festival of Crafts in Buda Castle Budapest is a celebration of Hungarian Crafts every August, around the 20th of August when Hungary's birthday takes place.
The Festival of Crafts (known as Mestersegek Unnepe in Hungarian) is a pleasantly authentic cultural event for any visitors of the Buda Castle.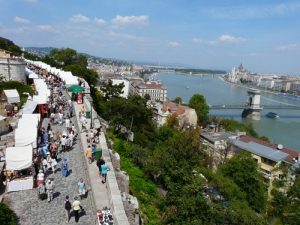 Venue: Buda Castle courts
Date: August 17 – 20, 2019
Opening hours: 10 am – 9 pm (concerts and food stalls are until 11pm)
Aug 20: Fireworks Show, Fireworks Cruises
Tickets: HUF 2,500 / adults (discounts for students, senior citizens, families)
or FREE entry with Budapest Card – Book on the right side of the page
The 3-4 day festival is set on the open air courts of the Buda Palace, with breathtaking views and in a beautiful scenery: the historical courtyards of the Castle, like the Hunyadi Court offer a special atmosphere for the Hungarian Crafts Festival: traditional canvas shaded stalls, cobblestoned yards, shadowy trees, delicious old "street foods", live craft shows (potters, wood carvers, weavers, smiths, glass makers), concerts and Hungarian Folk dance shows make the Festival of Crafts a huge success.
Festival goers may attend the Budapest History Museum free of charge, included in the festival ticket price. It is also a great place to cool down a bit, take a rest in the cafe, or use the lavatory.
During the Festival days, the Buda Castle courts can not be visited free of charge, only with festival tickets. Nevertheless, the entry fee to the Festival of Crafts is almost the same as the entry to the Budapest History Museum itself, so it is a great value deal indeed.
[rev_slider festivalcrafts]
Annual Festival in August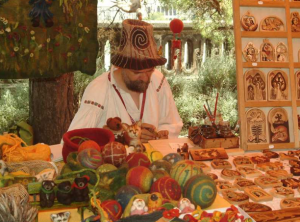 The Festival of Crafts is in August, always including the 20th of August: August 20 is a national holiday is Hungary celebrating the birth of the Hungarian Kingdom, the Hungarian Constitution, and the yearly blessing of the bread (after harvest), as well as Istvan day, Istvan (Stephen), the name day of the first king of 'Hungary', St Stephen I.