The Harvest Procession (Szureti Felvonulas) is a traditional event as part of the Budapest Wine Festival in the Buda Castle. The procession is a beautiful showcase of Hungarian folk dresses, traditional Hungarian womenswear and menswear in all sorts of regions in Hungary (there are over 10 wine regions which represent themselves in the procession).
The Harvest Procession also features Hungarian folk dance shows.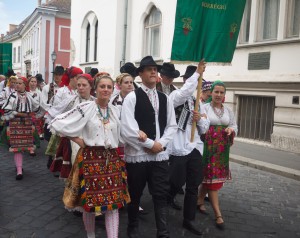 In 2014 the Harvest Procession is scheduled for September 14, 2014.
The program of the Harvest Procession has not been published yet, but you can take a look at the general program to get an idea what it consists of.
Typical Program of the Hungarian Harvest Procession in the Buda Castle (the actual program may differ from the standard program)
11.30
Registration for the Wine Festival Harvest Procession on Saint George Square Szent György tér, at the Budapest Funicular
12.00
Folk Dance Show
12.15
Harvest Procession in the Buda Castle on the procession route: Szent György tér – Szent György utca – Dísz tér – Tárnok utca – Szentháromság tér
13.00
More people joining the procession on the Holy Trinity Square by the Matthias Church (Szentharomsag ter)
13.15
Greetings to the Festival Goers from the Mayor of the Buda Castle District
13.30
Harvest Procession in the Buda Castle on the procession route:
Szentháromság tér – Tárnok utca – Dísz tér – Szent György utca – Szent György tér – Koldus Kapu – Hunyadi Udvar – Keleti Terasz
| | |
| --- | --- |
| 14.30 | Hungarian Folk Concert |
| 16.00 | Hungarian Folk Dance Show |
| 16.30 | Hungarian Folk Dance Show |
| 17.00 | Hungarian Folk Dance Show |
| 17.30 | Hungarian Folk Dance Show |
| 19.30 | Hungarian Folk Concert: Csik Band |