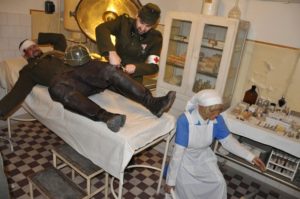 The Hospital in the Rock (Sziklakorhaz) underneath the Buda Castle district is one of the most unique and fascinating attractions of Budapest.
It was built as a secret military hospital and bunker – nowadays it's the biggest Hungarian waxwork exhibition with more than 40 figures, and a lot of original machinery and furniture that are still in working conditions.
History of Hospital in the Rock
Hospital in the Rock was built in a 10km long natural cave system underneath the Buda Castle District.
People started to use the cave system first in the WWII, and the halls and tunnels were used as refuges. In 1941 the mayor of Budapest ordered the construction of a a first-aid place which was resistant against bombing, and the caves under the Castle area seemed to be a logical choice. The Hospital in the Rock opened in February, 1944 containing three wards and one modern operating theatre.
The Hospital was in constant use in full capacity during the siege of Budapest (1944-45), when both civilians and injured soldiers were treated there at the same time. Volunteers of the International Red Cross helped the staff during these extremely hard times.
The Hospital closed it gates in July, 1945 – but remained in use for producing vaccines against typhus by the Vaccine-Producing Institute.
The institution was re-opened as a functioning hospital in 1956, at the start of the Revolution. In 1958, the Hospital in the Rock was expanded and upgraded to a nuclear bunker, which was designed to survive any nuclear or chemical attack while still functioning as a self-supplying hospital. The engines that operated the generator are still in working condition.
The Hospital in the Rock was never formally decommissioned, although it was only used as a storage facility until 2006.
In 2007, the Hospital in the Rock was renovated on the initiative of the Ministry of Defence, and first opened its gates to welcome visitors the same year.
Opening Hours of Hospital in the Rock
Monday: 10am – 8pm
Tuesday: 10am – 8pm
Wednesday: 10am – 8pm
Thursday: 10am – 8pm
Friday: 10am – 8pm
Saturday: 10am – 8pm
Sunday: 10am – 8pm
Last tour starts at 6pm every day.
The Hospital in the Rock is closed on the following dates:
Nov 1, Dec 24, Dec 25, Dec 31, Jan 1.
Hungarian national holidays (Mar 15, Aug 20, Oct 23): the exhibition can only be visited by groups with advance registration, it is closed for individual drop-in guests.
Tickets to Hospital in the Rock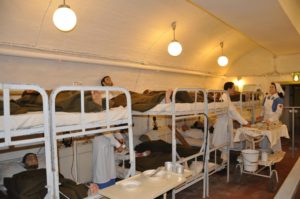 Hospital in the Rock guided tours depart every hour between 10am and 8pm. Language: English or Hungarian. Duration: 60 min.
Adult: HUF 4000
Discount ticket (6-19 yrs, over 65 yrs of EU citizens): HUF 2000
Family ticket (2 adults + 2 children under 18 yrs): HUF 8000
Free admission for 70+ yrs EU citizens.
NOTE: the Hospital in the Rock cannot be visited by children under 6 years of age, and it is not recommended for children under 12 years.
Further discounts:
30% Discount with Budapest Card
10% Discount for groups of 15+ (advance registration is required)