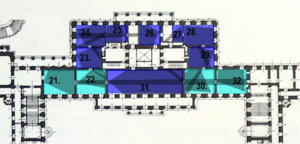 Upon building the Buda Castle suites, the disposition and allocation of the rooms by their functions and of course their hierarchical separation was very important.
The royal suites of the 18-19th century have lost their function by the beginning of the 20th century. During the restoration and extension works by Alajos Hauszmann architect in the turn of the century, most of the rooms of the Buda Castle has been re-designed and modernized (for example drainage and steam heating installations).
Most of the photos below are part of the album published by Alajos Hauszmann in 1911.
Read more:
Exterior of the Buda Castle around 1900
First Regal Suite of the Buda Castle after 1900
The Archducal Suites and Garden Buildings of the Buda Castle after 1902