Enjoy a wide selection of the best Hungarian wines with your group of min. 10 people on a guided tasting session in Faust Wine Cellar, in the Buda Castle.
Booking for Groups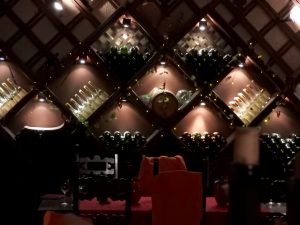 Groups of min. 10 people can book a Wine Tasting minimum 3 days ahead. Please use the inquiry form on the right side of the page.
Please note that only one type of tasting package is available per group.
Min Group Size: 10 people
Max Group Size: 35 people (For groups of 35+, please contact us at info [at] budacastlebudapest [dot] com)
Packages for Groups
Wine Tasting Package for Groups
Price: €22 per person
Inclusions: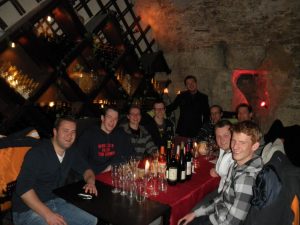 5 Tier Wine Tasting
Sommelier in English
Fizzy Mineral Water (250ml)
Scones (3 pcs/ person)
Wines Included in the Wine Tasting Package (please click here to see the wines)
Wines Included in the Wine Tasting Package (please click here to see the wines)
Badacsonyi Olaszrizling (Winery of Bálint Barcza) 2012
Type: dry white
Quantity: 75 ml
"John's Bless" Tokaji Furmint (Bene Winery) 2013
Type: dry white
Quantity: 75 ml
Soproni Syrah (Ráspi Winery) 2011
Type: dry red
Quantity: 75 ml
Villányi Cabernet Franc Selection (Winery of Zsófi Iványi) 2007
Type: dry red
Quantity: 75 ml
Tokaji Zéta, late harvest (Bene Winery) 2013
Type: sweet white
Quantity: 50 ml
Grand Wine Tasting Package for Groups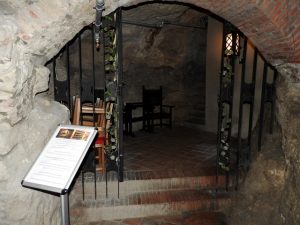 Price: €32 per person
Inclusions:
5 Tier Wine Tasting
Sommelier in English
Fizzy Mineral Water (250ml)
Scones (3 pcs/ person)
Wines Included in the Grand Wine Tasting Package (please click here to see the wines)
Wines Included in the Grand Wine Tasting Package (please click here to see the wines)
Etyeki Pinot Noir Rosé Sparkling Wine (Szentesi Winery) 2013
Type: brut rosé
Quantity: 75 ml
"John's Bless" Tokaji Furmint (Bene Winery) 2012
Type: dry white
Quantity: 75 ml
Soproni "Gneisz" Old Vine Selection (Ráspi Winery) 2006
Type: dry red
Quantity: 75 ml
Villányi "Ignác Cuvée" (Winery of Zsófi Iványi) 2008
Type: Cabernet Sauvignon – Merlot – Cabernet Franc; dry red)
Quantity: 75 ml
Tokaji Aszú, 5 puttonyos (Bene Winery) 1989
Type: sweet white
Quantity: 50 ml
Opening hours
Monday: 2 pm – 9 pm
Tuesday: closed
Wednesday: closed
Thursday: 2 pm – 9 pm
Friday: 2 pm – 9 pm
Saturday: 2 pm – 9 pm
Sunday: 2 pm – 9 pm
Tasting hour: from 2 pm or 5.30 pm