Enjoy fantastic concerts in the beautiful Neo-Gothic Matthias Church in the Buda Castle District, atop the Buda Castle Hill. Classical concerts are available throughout most of the year, including some free concerts too.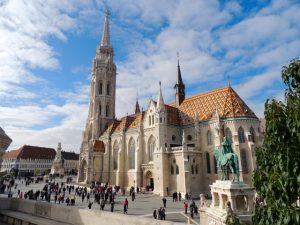 Matthias Church Concert Dates
The concerts start at 7pm, performed by Duna String Orchestra.
Occasionally, you can enjoy admission-free concerts in the Matthias Church:
December: 8 (7.30 pm Organ Concert on Sunday Evening)
More Budapest Christmas Concerts: Please follow the link to see a wider range of festive concerts during the Christmas period.
2020 Concert Dates in Buda Castle Matthias Church
Jan 4, 2020, • 19:00: Concert of Duna String Orchestra at Matthias Church Budapest
8 May 2020: Concert of Duna String Orchestra at Matthias Church Budapest
15 May 2020: Concert of Duna String Orchestra at Matthias Church Budapest
16 May 2020: Concert of Duna String Orchestra at Matthias Church Budapest
29 May 2020 Concert of Duna String Orchestra at Matthias Church Budapest
5 Jun 2020 Concert of Duna String Orchestra at Matthias Church Budapest
6 Jun 2020  Concert of Duna String Orchestra at Matthias Church Budapest
19 Jun 2020  Concert of Duna String Orchestra at Matthias Church Budapest
26 Jun 2020  Concert of Duna String Orchestra at Matthias Church Budapest
27 Jun 2020  Concert of Duna String Orchestra at Matthias Church Budapest
10 Jul 2020  Concert of Duna String Orchestra at Matthias Church Budapest
17 Jul 2020  Concert of Duna String Orchestra at Matthias Church Budapest
18 Jul 2020 Concert of Duna String Orchestra at Matthias Church Budapest
24 Jul 2020 Concert of Duna String Orchestra at Matthias Church Budapest
7 Aug 2020 Concert of Duna String Orchestra at Matthias Church Budapest
21 Aug 2020 Concert of Duna String Orchestra at Matthias Church Budapest
28 Aug 2020 Concert of Duna String Orchestra at Matthias Church Budapest
29 Aug 2020 Concert of Duna String Orchestra at Matthias Church Budapest
16 Oct 2020 Concert of Duna String Orchestra at Matthias Church Budapest
23 Oct 2020 Concert of Duna String Orchestra at Matthias Church Budapest
30 Oct 2020 Concert of Duna String Orchestra at Matthias Church Budapest
13 Nov 2020 Concert of Duna String Orchestra at Matthias Church Budapest
27 Nov 2020 Concert of Duna String Orchestra at Matthias Church Budapest
11 Dec 2020 Concert of Duna String Orchestra at Matthias Church Budapest
18 Dec 2020 Concert of Duna String Orchestra at Matthias Church Budapest
28 Dec 2020 Concert of Duna String Orchestra at Matthias Church Budapest
Booking Matthias Church Concerts
More concerts on Matthias Church Budapest Concerts