Magdalene Tower (or often called Buda Tower) is a rare and amazing find in the Buda Castle District and an absolute must when in this area.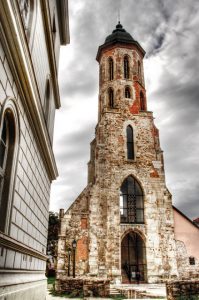 After re-opening its doors to visitors, the tower offers views from the top that are absolutely breathtaking so the panorama is definitely worth climbing the total of 170 stairs to the top.
History
The Church of Mary Magdalene itself was built in the 13th century and its exceptionally unfortunate doom is a perfect image of the similarly unlucky history of Hungary.
After suffering severe damage during World War II and after being closed to the public for decades, the tall and reconstructed tower welcome visitors again and provides an extraordinary panorama with views to some of the most important buildings of Budapest.
Opening Hours
Magdalene Tower is open every day from 10 am to 6 pm.
Ticket Prices
Tickets can be bought in the ticket office of the Museum of Military History, very close to the tower itself.
Adult: HUF 1,500
Student, groups: HUF 600
Free with Budapest Cards.
Address
6 Kapisztran square, Budapest, District I, H- 1014, Hungary