Budapest Card offers several discounts in the Buda Castle area. Book your Budapest Card in advance, and enjoy the benefits across the whole city.
Free Entry with Budapest Card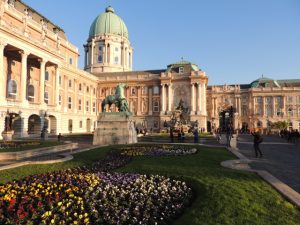 The following Buda Castle attractions are free to visit with a valid Budapest Card.
Free Entry to History Museum in Buda
Castle
Free ticket with Budapest Card to the Budapest History Museum and its historical permanent exhibitions in the old and new buildings inside the Buda Castle. For a small additional fee you may request an audio guide to learn more about the history of the Buda Castle Royal Palace.
Free Entry to National Gallery in Buda
Castle
Free admission with Budapest Card to the Hungarian National Gallery displaying hundreds of exquisite artworks made by Hungarian painters, sculptors over the centuries. The panorama dome inside offers beautiful views over the Buda Castle district (the dome has limited opening hours).
Free Entry to 3D History Show in
Castle

District

Free entrance with Budapest Card to the 3D historical film show in St Michael's Chapel (hidden under Fisherman's Bastion) overviewing the 1000 year old history of the Hungarian people.
Free entry to Magdalene Church Tower with
Budapest
Card
Free admission to the 13th century ruins and the tall Magdalene Church Tower in the Buda Castle District, formerly the church of the Hungarian population living inside the castle walls.
Free Tours with Budapest Card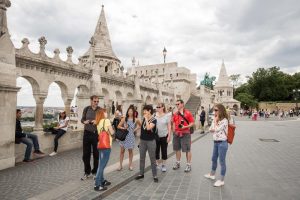 Budapest Card holders can participate in 2 guided tours in Budapest for free. Both of them are 2 hour long walking tours with professional English guide, running once daily throughout the year (even on bank holidays). Advance booking with Budapest Card is not necessary. Budapest Card provides several other discounts on sightseeing tours, but these 2 tour are absolutely free of charge:
Free Tour in Buda
Castle

District

Budapest

Daily walking tour from 2pm (running every day, even on bank holidays) in English. Starts from the Holy Trinity Statue in front of Matthias Church, visiting the major attractions of the Buda Castle (Matthias Church, Fisherman's Bastion, courtyards of the Castle).
Free Tour in City Centre
Budapest
Also a daily walking tour from 10am on the Pest side. This English language tour starts from the city centre (31 Vaci str., Budapest District V.), and features the most important attractions of Pest, such as the St. Stephen's Basilica, the Hungarian Parliament and the Liberty Square.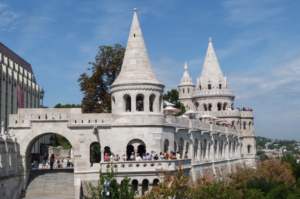 For a more complex guided tour in the Buda Castle, we can recommend the Castle & Matthias Church Tour or the Castle Tour & Funicular & Cruise programs (Note: neither of them are part of the Budapest Card discount plan).
Free Festival in the Buda Castle with Budapest Card
The most popular annual festival in the Buda Castle, The Festival of Folk Arts is held every year in August (usually ending on Aug 20). Entry to the festival is free for Budapest Card holders.
Further Discounts with Budapest Card in the Buda Castle
Museum of Music History: 50% discount form the entry price, also valid for the daily public concerts in the museum
Hospital in the Rock: 30% discount from the entry price of the underground waxwork exhibition of the former secret bunker and hospital
Fisherman's Bastion: 10% discount from the upper tower entry price (the lower parts are free to visit)
Public transportation: free with Budapest Card. The Castle District can be easily accessed by bus no. 16 from either the Buda or Pest side.  More info on How to Get to Buda Castle