The 700 year old St Michael's Chapel is a hidden gem under the turret of the Fisherman's Bastion in the Buda Castle District, Budapest.
History of St Michael's Chapel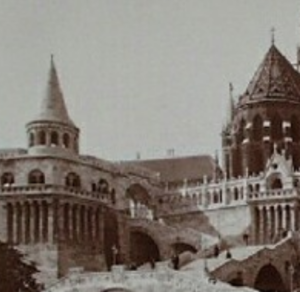 The history of St Michael Chapel in the Buda Castle District reaches back to the 15th century, when it was first mentioned in chronicles in 1442 as the chapel of the cemetery near the Church of Our Lady (today mostly known as the Matthias Church to tourists). In the photo you can picture the Chapel hidden under the whitish turret of the Fisherman's Bastion on the left side, near the stairs leading down and the dark reddish bricks of the Matthias Church / Church of Our Lady.
St Michael's Chapel  was accidentally discovered during the archaeological excavations carried out as part of the reconstruction works on the Fishermen's Bastion (Halaszbastya) in 1899 by Frigyes Schulek. The chapel was named after the Catholic patron saint of the dead, St Michael.
The two-nave chapel is of a smaller size, 12m long (approx. 40 feet) and 7m wide (7.5 ft) with an octagonal shaped chancel in the east. The sidewalls and pillars might have been built earlier dating back to the 15-16th century. The barrel vault arches point to a later addition though from the 18th century. The chapel is hidden and well bordered on three sides by the walls and rocks of the Castle's earlier defence line, later incorporated into the Fisherman's Bastion. On its wall there is a cannon slot viewing the north. In more peaceful times of the Austro-Hungarian empire, the chapel was gradually forgotten, and then buried during the last 250 years before the excavation works began in 1899. Upon the discovery of the chapel, Frigyes Schulek changed his original plans of the Fishermen's Bastion so that the chapel would be preserved. It took almost another 100 years though to open the gates of the chapel to the public on Hungary's national birthday, the 20th August, 1997.
These days the chapel attracts visitors with its 3D historical film screenings. The 3D Show of Hungarian History is one of the inclusions in the Budapest Card. The film is screened all year round, in all weather conditions and on most days, from 10 am to 5 pm.
The 3D movie screening is free with Budapest Card.
A tablet was placed inside commemorating the heroes and victims who died in and for the castle.