Reasonably priced and delicious homemade cakes in this beautiful small pastry shop with original old fittings, 200-year-old wood counters with a fabulous old tiled fuel stove for chilly winter days.
Ruszwurm Cafe & Confectionery is one of the places in the Buda Castle where it is hard to get a seat, especially at weekends and on rainy days. The confectionary is smallish, historically smallish with beautiful interior and wonderful pastries. The coffee is authentic and good too.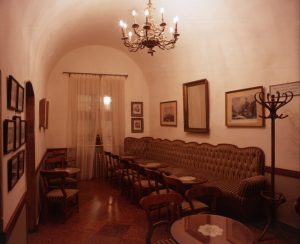 In short, Cafe Ruszwurm is highly recommended amongst the attractions of the Buda Castle. Indoor and outdoor seatings, attentive and polite staff make this place a must see. The cafe / confectionary is offering the highest quality products, including some of Hungary's most famous cakes, like Dobos torta, Somloi Sponge Cake or the yummy creamy Kremes.
History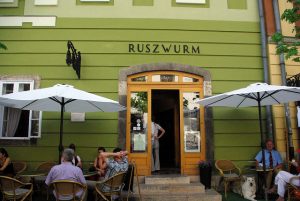 Ruszwurm is the household surname of century old  confectionary families in Hungary, reaching back to the times of the Austro Hungarian Empire. For many, Ruszwurm means tradition & delight. The name of the cafeshop originates from one of the most famous Hungarian confectionary families who opened their very first pastry shop in 1827.
Nowadays, Ruszwurm is owned and operated by the Szamos family, another well-known confectionary dynasty.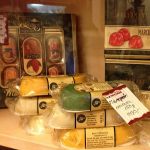 Chocolate pralines, filled and unfilled chocolate coated, individually wrapped marzipans and other delicacies speak highly of the inventiveness of Matyas Szamos, founder of Szamos marzipan. Many shapes, flavours, specialities and sweet surprises supplement the huge selection of homemade cakes  making Ruszwurm a very popular and extremely busy pastry shop in the Buda Castle District.
Opening Hours
Mon-Sun: 10 am – 7 pm (summer)
Mon-Sun: 10 am – 6pm (winter)
Address: 7 Szentharomsag Street, Budapest, H-1014
Prices:
Cakes from 450 HUF- 650 HUF
Payment by cash or by card (Visa, Maestro, Mastercard)
Getting there:
Bus: 16A from Szell Kalman ter or 16 from Deak ter
Funicular: From Clark Adam ter to Castle Hill
On Foot: 2 minute walk from Matthias Church and the Fisherman's Bastion in the Buda Castle District.