The Sandor Palace (or Hungarian Presidential Palace) is a prestigious mansion that has been a key seat of political power for over 200 years. Since 22 January, 2003 the building is housing the Office of the President of the Republic of Hungary and it also serves as his official residence.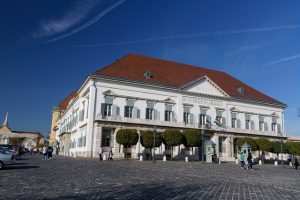 Originally built for the aristocratic and extremely rich Sandor family between 1803-1806 according to the plans of Mihaly Pollack, one of the most important architects of Hungarian classicism. The neoclassical Palace was so luxurious in its time that even the stables were made from marble.
Interestingly, there are no gates or fences blocking Sandor Palace off from the crowds passing by so it is easy to get close and appreciate the exterior of this beautiful mansion.
The changing of the guards is a must see and – according to http://www.worldtravelguide.net – one of the best things to do in Budapest.
History
Built for the Sandor family, suprisingly, and contrary to all traditions, the building was not named after the old Count Sandor but of his son Moric Sandor who was named at the time as a "devil rider" due to his acrobatic equestrian feats and his lively, vivid personality that was liked and adored by many in aristocratic circles.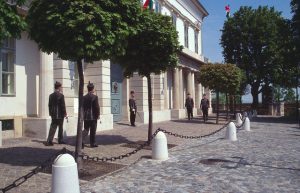 For much of its history, Sandor Palace was used as a government building and to house officials, including 19 different Prime Ministers in the course of the Hungarian history.
Less than four years after Pal Teleki (Hungarian prime minister who cooperated with the Nazi Germany in the early stages of WW2), a fleet of aircraft of the Allies showered the historic building with bombs. All what was left of the Palace was nothing but ruins and heap of stones.
The remains of the building was not considered to have any political importance until the change of the political system in 1989, when the building was started to be renovated and restored to its former glory.
The simple elegance of the Sandor Palace is the total opposite of the luxurious appearance of the Royal Palace.
Unfortunately, the interior is only occasionally open to the public, visitors can enter the building via the southern main gate and the main staircase.
After entering the building, visitors will realize that the interior, designed in a Baroque style, is even more luxurious than the facade of the palace.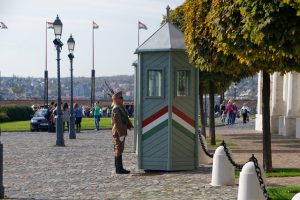 The different Salons, such as the Blue Salon (mainly used for larger meetings), the Red Salon, being the most elegant room in the Palace or the Hall of Mirrors used for giving lavish receptions to ambassadors all prove the sumptuous taste and royal appearance of the Palace.
Opening Hours
Only occasionally open to the public
Tickets: Free
Address: 1-2 Szent Gyorgy square, Budapest 1014
Phone: 36 1 224 5000