Located near Matthias Church and Fisherman's Bastion, the Holy Trinity Statue can be found in the middle of Trinity Square. The column commemorates the people of Buda who died from two outbreaks of the Black Plague.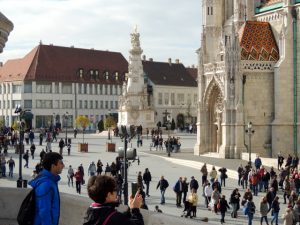 The Black Plague (causing the death of 30-60% of Europe's total population) swept across Europe in 1691 and 1709, and many were buried in mass graves. Since people believed that erecting a column would keep away the plague, the foundation stone was laid in 1700.
Even though, the first pillar was ready by 1706, three years later the plague returned to Budapest, and therefore a new, larger plague pillar was planned in order to keep the plague away at any costs. Residents believed the Holy Trinity Statue did its job, as the plague never returned after 1709.
History of Holy Trinity Statue
The statue – made by the architect Ceresola Vereio and stone carver Bernát Ferretti – was finished in 1706. In 1709 the original column was removed and the Council of Buda decided on the erection of a much bigger, more impressive and more decorative Holy Trinity Column. The sculptor Fulop Ungleich made the column, which you can see today.
The carving on the top of the column represents the Holy Trinity. Below this the whole column is decorated with smaller statues depicting angels, cherub-like figures and larger statues of saints, while the central sculpture exhibits a biblical scene, showing King David praying to God to let his people avoid the outbreak of a plague.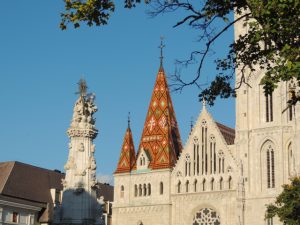 The Holy Trinity Square (Szentharomsag Ter in Hungarian) is a perfect and beautiful meeting place for locals and visitors alike giving a 360 degrees panoramic view of the Buda Castle Hill, including the various wings and buildings of the Buda Royal Palace, the Fisherman's Bastion, the Matthias Church, and the Old City Hall.
Many of the Buda Castle Tours leave from this meeting point, at the Holy Trinity Statue.
Address of Holy Trinity Statue
Szentharomsag Square, Budapest, District I, 1014