The Fisherman's Bastion – world famous for its turrets and for spires – is one of the most well-known attractions of the Buda Castle area, and provides perhaps the most beautiful panorama of the city from the Buda side over the river Danube and its attractions in Budapest. It is also one of the most famous and favoured destinations for Budapest photo opportunities.
Opening Hours of Fisherman's Bastion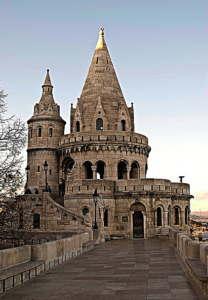 Monday to Sunday: always open (any day, non stop)
Entry to Fisherman's Bastion
Visiting the lower terraces: free of charge on any day, all day
Visiting the upper towers:
Daytime (9am-8pm): HUF 1,000 / adults and HUF 500 / students (free for children under 6)
Evening (8pm-9am): free of charge
Discount with Budapest Card: 10% discount from the adult price.
Getting to the Fisherman's Bastion
Basically there are 2 ways to approach the Fisherman's Bastion in the Buda Castle.
The first is by the dedicated Buda Castle bus (free with Budapest Card) which will take you right up to Holy Trinity Square or by Funicular.
The other way is a sportier hiking challenge to walk up from the Danube river bank through hundreds of steps and finally be rewarded by the sights of the historical Fisherman's Bastion and the beautiful scenery of Budapest.
History of Fisherman's Bastion
According to its architectural style, the Fisherman's Bastion  in the Buda Castle may seem to be a very old building, but the truth is it was built on the turn of the century (finished in 1902), to celebrate the 1000th birthday of the Hungarian state (among a lot of other buildings across Budapest).
Learn more about the History of Fisherman's Bastion
Attractions by Fisherman' Bastion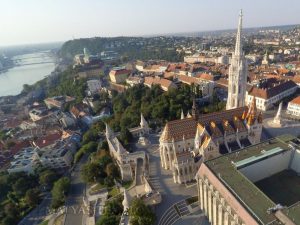 The Fisherman's Bastion is literally only a few steps away from the some of the most important attractions in the Buda Castle.
St Michael Chapel: under the ramparts of the Fisherman's Bastion there is a hidden chapel dating back to the middle ages, where you can watch a 3D film show of the major events of the Hungarian history
Statue of St Stephen: the Fisherman's Bastion embraces a fascinating sculptural artwork, the Statue St Stephen
Matthias Church: right in front of the Fisherman's Bastion, you can see the astonishing medieval Matthias Church
Further sites nearby Fisherman's Bastion:
Ruszwurm Confectionery – 1 minutes away
Holy Trinity Statue – 1 min away
Statue of Andras Hadik – 2 min away
The Fisherman's Bastion offers panoramic views of some of the most beautiful attractions in the city. If you look to the left from the terraces of the Fisherman's Bastion, you can see the Margaret Island behind the yellow Margaret Bridge. The next one is the Chain Bridge, a historical Classicist bridge spanning the river Danube in Budapest, which ends on the Pest side by the Four Seasons Hotel (Gresham Palace). Behind Gresham Palace, you can also see the top of the St Stephen's Basilica.