History comes to live in the Buda Castle in Budapest! The Buda Castle Medieval Festival (Budavari Tortenelmi Jatekok) is a historical festival in Budapest launching in 2013. Historical games, medieval challenges, dresses, tools, foods and drinks from the Middle Ages of the Hungarian Kingdom will be in focus at the festival set in the picturesque courts of the Buda Castle Royal Palace. Do come if you love historical attractions, and themed festivals!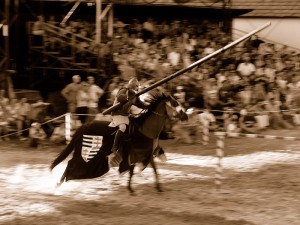 Dates: Cancelled
We regret to inform you that the medieval festival in the Buda Castle has been cancelled in 2013.
October 11 – 13, 2013
Venue: Courts of the Buda Castle
Tickets: TBA
The festival ticket includes a free entry to the Hungarian National Gallery and the Budapest History Museum, two outstanding sights residing in the buildings of the Buda Castle.
The program of the festival includes many games and shows inspired by the historical games of the colorful Middle Ages, when Hungary was a leading kingdom in Central and Eastern Europe. Bowmen, men at arms, knights will battle, and showcase their talent, tamed falcons will be paying a visit, puppeteers will entertain the kids. There will be many interactive games, e.g. you can try your hands at archery. At the Medieval Traders' Market, you can buy traditional Hungarian crafts reaching back to, or inspired by the Middle Ages. Craft beers with lovely tastes will take you back to the times of beer taverns. Medieval dances will please the eyes, and jesters will fool the crowds. We will enjoy some real Renaissance live music
There won't be any beheading, burning and boiling, garroting, hamstringing, flogging or impaling, so do not expect to re-live the horrors of the Middle Ages. Instead we will have fun, as much as we can, and you may even see some butter churning, candle dipping, bread baking, rush weaving, sling making or net making! There are several Medieval history enthusiasts in Hungary whose aim is to re-enact the Hungarian Medieval History at a high standard, and who are keen to interact with visitors of all ages.
The festival is set atop the Castle Hill in Budapest, on the open courtyards of the Buda Royal Palace, with daytime and night time panorama views over the Danube and the river cruise ships gliding on the Danube along many beautiful attractions.
The Medieval Festival in the Danube Bend town of Visegrad, known as the Visegradi Palotajatekok, has long been a popular historical festival, and we hope the Buda Castle Chronica Hungarica Historical Games Festival will be just as great a hit! Please take a look at the Medieval Processions in Visegrad as a taster:
Medieval Battle at the Visegrad Medieval Festival in Hungary