The famous Fireworks Show in Budapest is held on Aug 20 every year, when Hungarians celebrate the state, the first king and the new bread of the year.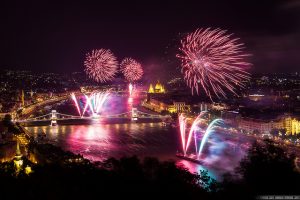 To enjoy the Fireworks Show on Aug 20, the Buda castle is a remarkable spot, as are the Budapest Fireworks Cruises, the Citadel on top of Gellert Hill or the promenades of the river Danube.
Aug 20 is the happiest national holiday of the Hungarian people, with all day concerts, food and drink stalls, festivals (for example the Festival of Crafts in the Buda Castle), and as the crowning of the day: the Fireworks Show in the evening, from around 9 pm.
Enjoy the spectacular Fireworks Show in Budapest
The one hour show usually attracts hundreds of thousands of locals and tourist. Most of them watch the Fireworks Show from the riverbank of the Danube or from the bridges (although please note that 2 of the most central bridges will be closed from public: Elizabeth Bridge and the Chain Bridge, as they will be part of the Fireworks Show).