The National Archives of Hungary does nothing less than preserving national treasures.
Records related to the last 1000 years of Hungarian history, this building preserves 80% of all the Hungarian archival records making 307 000 meters of documents.

Good to know that foreigners can only obtain access to these documents if their country of origin has a data protection agreement with Hungary.
Scientific researches and searching for family histories are two major request of citizens satisfied by this institute.
History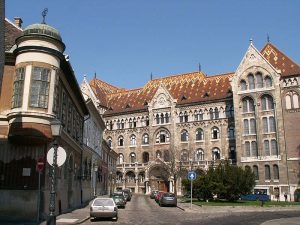 The National Archives was created and established in 1756 in Bratislava with the aim of classifying, preserving records, publication and transfer of information, publishing books and other materials as well as professional education. The Archives was moved to Buda 28 years later.
Due to the high volume of the records, currently two other buildings are opened for the visitors. The first is also located in the Buda Castle, in the Hess Andras square (records of the governmental bodies created after 1945 are kept there), while the other one is situated in the Becsi ut, in a building built in 1994.
Opening hours
Mon: 8.30 am – 14 pm
Tues, Wed, Thur: 8.30 am – 17.45 pm
Fri: 8-30 am – 14 pm
Tickets
Free for everyone, groups are requested to contact the institute before
Address: Budapest I. ker. Becsi kapu ter 2–4.
Telephone: +36-1-225-2844