Please find the main Buda Castle Attractions' special Christmas and New Year's Eve opening hours, as well as the Buda Castle Tour's December schedule.
To get more information about Budapest Christmas and Budapest New Year ideas, programs and activities please visit these December guides.
Programs in Castle District – Christmas & NYE
Should you be interested in discovering the Castle District during your Christmas holiday via a guided tour, you can choose one of the following available programs.
Dec 1-23        All Buda Castle Tours are available

Dec 7              Classical Concert in Matthias Church
Dec 14            Classical Concert in Matthias Church
Dec 24           Budget Castle Tour

Dec 25            Budget Castle Tour

Dec 26           Budget Castle Tour

Dec 27-30     All Buda Castle Tours are available

Dec 28            Classical Concert in Matthias Church
Dec 31            Budget Castle Tour

Jan 1              Budget Castle Tour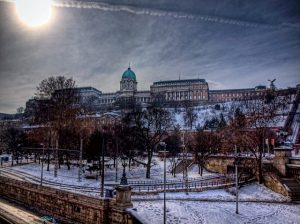 December Opening Hours of Castle Attractions
National Gallery Opening Hours:
Dec 1-23: Open as usual (10 am- 6pm)
Dec 24: Closed
Dec 25: Closed
Dec 26: Open as usual (10 am- 6pm)
Dec 27-30: Open as usual (10 am- 6pm)
Dec 31: Open 10 am – 4 pm (latest entry at 3 pm)
Jan 1: Open 12 pm – 6 pm (latest entry at 5 pm)
Budapest History Museum Opening Hours:
Dec 1-23: Open as usual (10 am – 6 pm)
Dec 24: Closed
Dec 25: Open 10 am – 6 pm
Dec 26: Closed
Dec 27-30: Open as usual (10 am – 6 pm)
Dec 31: Open 10 am – 6 pm
Jan 1: Open 10 am – 6 pm
Matthias Church Opening Hours:
Dec 1-23: Open as usual (Mon-Fri: 9 am – 5 pm, Sat: 9 am – 1 pm, Sun: 1 pm – 5 pm)
Dec 24: 9am – 1pm
Dec 25: 1pm – 5pm
Dec 26: 1pm – 5pm
Dec 27-30: Open as usual (Mon-Fri: 9 am – 5 pm, Sat: 9 am – 1 pm, Sun: 1 pm – 5 pm)
Dec 31: 9am – 5pm
Jan 1: 1pm – 5pm
Funicular Opening Hours:
Dec 1-23: Operates as usual (7.30 am – 10 pm)
Dec 24: 7.30 am – 2 pm
Dec 25 – Jan 1: Operates as usual (7.30 am – 10 pm)
Faust Wine Cellar Opening Hours:
Dec 1-23: Open as usual (2 pm – 9 pm, except Tuesdays and Wednesdays)
Dec 24: Closed
Dec 25: Closed
Dec 26: Closed
Dec 27 – 31: Open as usual (2 pm – 9 pm)
Jan 1: Closed
Fisherman's Bastion Opening Hours:
Dec 1-23: Open as usual – 00:00-00:00 (all day)
Dec 24: Open as usual – 00:00-00:00 (all day)
Dec 25: Open as usual – 00:00-00:00 (all day)
Dec 26: Open as usual – 00:00-00:00 (all day)
Dec 27-30: Open as usual – 00:00-00:00 (all day)
Dec 31: Open as usual – 00:00-00:00 (all day)
Jan 1: Open as usual – 00:00-00:00 (all day)