Enjoy a wide selection of the best Hungarian wines on a guided tasting session in Faust Wine Cellar, in the Buda Castle District.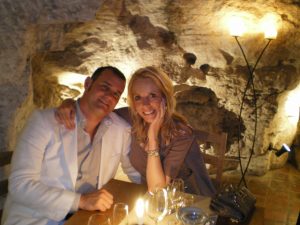 Faust Wine Cellar is located in a historical underground wine cellar in the Buda Castle District. The stairs are leading down from the remains of a 13th century Dominican Cloister, ending at the cellar which is part of the huge labyrinth system underneath the Caste Hill, carved in the middle ages as an escape route.
This medieval atmosphere is a perfect match for tasting delicious beverages, while learning about the wine regions and main wineries of Hungary. Your host will be the owner of the Cellar, who is a knowledgeable wine expert and sommelier – he will introduce you to the world of Hungarian specialties in English language.
Individual guests and groups are welcome as well, however advance table reservation is highly recommended due to the size of the cellar.
Opening hours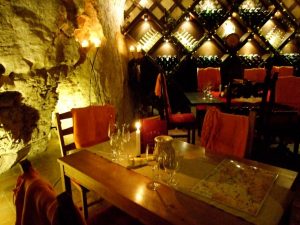 Monday: 2 pm – 9 pm
Tuesday: closed
Wednesday: closed
Thursday: 2 pm – 9 pm
Friday: 2 pm – 9 pm
Saturday: 2 pm – 9 pm
Sunday: 2 pm – 9 pm
Address
Address of Faust Wine cellar: 1-3 Hess Andras Square, Budapest, 1014.
The Cellar can be approached via Hotel Hilton, through the medieval Dominican Cloister (signs are posted on the walls leading to Faust Wine Cellar).
Wine Tasting in Budapest
Further options to consider for wine tastings in the city of Budapest: