The small, but utterly captivating Museum of Music History in the Buda Castle District will take you through the Hungarian music history highlights, Franz Liszt, Kodaly, Bartok. There are frequent concerts in the Museum, which can be visited free of charge with the museum entry.
Museum of Music History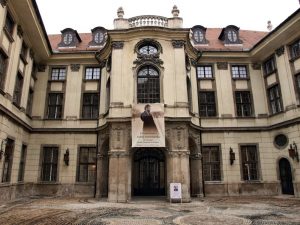 The Museum of Music History (aka the Institute for Musicology), as its name suggests, tells the story of music in Hungary from the 18th century to the present days in several exhibition rooms through recitals, sheet musics and original scores. The museum is housed in a magnificent courtyard near the Fisherman's Bastion and the Matthias Church.
All the exhibitions have a multimedia setting as well, therefore visitors are able to listen to the recordings of the exposed instruments making this place a great experience for anyone with even a slight interest in music.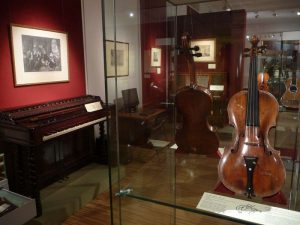 A highlight of this museum exhibits the recording gramophone used by Hungarian composers Bela Bartok and Zoltan Kodaly to capture the authentic folk music of many nations living together the Carpathian basin, influencing each other's musical heritage (Hungarian, Szekler, Transylvanian, Romanian, Slovakian, etc.).
The unique and very impressive collection of original scores, programs, books and historical musical instruments are all numerically labeled, some in English.
The emphasis is on Hungarian music, which is rich in folk traditions and covers a wide spectrum from the rhapsodies of Liszt and the compositions of Bartok and Kodaly to Hungarian Gipsy music.
History of the Museum of Music History
The Museum is part of the Music Institute of the Hungarian Academy of Sciences. The Institute was established in 1974 amalgamating the classical and folk music researches of the Academy. In 1984 the Museum got its new place in the 18th century Erdody-Hatvany Palace in the Buda Castle, presenting the music legacies of several outstanding characters in the history of Hungarian music, e.g. most recently, in 2014 Erno Dohnanyi's Legacy – thanks to Seán Ernst McGlynn, Dohnanyi's grandchild – was moved to Hungary from Florida US. The Hungarian composer's special collection enriched the museum's collection with beautiful musical exhibits, documents, tape recordings, letters and more.
Opening hours: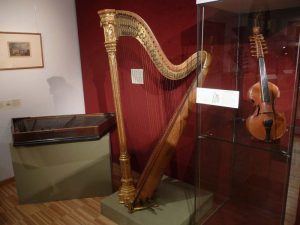 Tuesday: 10am – 4pm
Wednesday: 10am – 4pm
Thursday: 10am – 4pm
Friday: 10am – 4pm
Saturday: 10am – 4pm
Sunday: 10am – 4pm
Closed on Mondays, 23-26 December, 30 December and 1 January
Tickets:
Adult: 1000 HUF
Child / Student / Senior Citizens: 500 HUF
Discounts for families and Budapest Card holders
Free for Children under 6 and ICOM Card holders
Free Entry on historical national holidays: March 15, Aug 20, Oct 23
50% Discount with Budapest Card
Address: 7 Tancsics Mihaly Street, Budapest, District I, H-1014
Telephone: +36-1-214-6770