Explore the beautiful sights in the Buda Castle District in Budapest on a 2-hour Segway Tour: get the best price for your guided tour on a Segway, by booking in advance. Tours run daily from 1pm. Never tried a Segway before? Get the perfect introduction in a beautiful location at the fraction of a price most Segway tours would charge.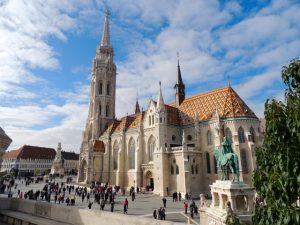 Segway Tours are a brilliant way to see the main attractions in the Budapest Castle Hill located on the plateau of the Buda Hill. The Guided Tour is ideal for people of all ages, from 10 years up. The tour is convenient, fun, informative and cool!
BOOKING
Highlights of Tour
Dates & Hours
The Castle District Tour is a 2 hour tour which runs every day of the year.
Dates: every day, Monday to Sunday, incl. National Holidays, Dec 24, Dec 25, Dec 31, Jan 1
Hours: 1pm
Drop ins are not accepted, please book in advance in the tour reservation form.
Price of  Buda Castle District Segway Tour
Euro 54 / Adult
Euro 54 / Student (13-24 yrs with valid Student ID card)
Euro 54 / Child (10-12 yrs)
Group Discounts available (please send us an email min. 48 hours before your booking at info [at] budacastlebudapest.com)
BOOKING
Inclusions in Segway Tour in Buda Castle
Segway Tour in Castle District
Small Groups (up to 6 persons)
2 h Guided Tour (outside major attractions)
Professional Guide (EN, FR, DE)
Segway Training Session (5-15 minutes)
Segway Safety Briefing
Safety Equipment Including Helmet
Segway Rental
Note: the tour fee does not include entry inside the Buda Castle District buildings
Segways are easy to control for any age (min age is 10 years old), smart, extremely fun to maneuvre and environmentally friendly. These special two wheeler transportations rely on your natural balance, plus you can control the speed of the Segway with your own weight and gentle movements (leaning forward very slightly and backwards).
Beginners / First Experience on Segway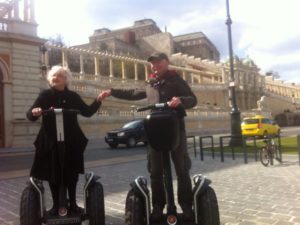 Even if you have never used a Segway, you can learn it in less then 15 minutes. Unlike bicycles, which require a longer learning curve, Segways are more intuitive, require a lot less balancing skills, and you can safely stop them and step off them, just as if you stopped walking (we are talking from experience, recalling our very first encounters with this marvellous machine).
BOOKING
Route & Attractions – Buda Castle District Segway Sightseeing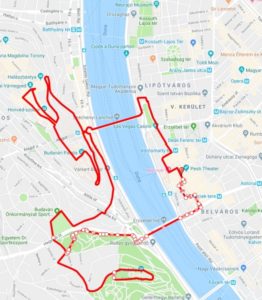 1. The tour starts in the city centre on the Pest side at the Segway Tour Office (short walk from Deak or Vorosmarty Sq.)
2. Chain Bridge (crossing from Pest to Buda side) – Adam Clark Square by the Tunnel under the Buda Hill and the Zero Kilometer Statue
3. Fisherman's Bastion – Matthias Church – Trinity Statue – Magdalene Church Tower (all attractions outside only)
4. Presidential Palace – Royal Palace Courts – Old Gate – Buda Castle Gardens (all attractions outside only)
5. Rudas Baths – Elisabeth Bridge (crossing from Buda to Pest side) – Marcius 15 Square
6. The tour ends in the city centre on the Pest side at the Segway Tour Office
Important notice: We reserve the right to modify or change the route without prior notice throughout the year. This can be due to construction, street closures, festivals or any events beyond our control. Please note that the city prohibits the use of Segways in certain pedestrian zones which may force the tour to use alternative routes.
Groups – Segway Tours in Budapest
Public Segway tours are for a maximum of 6 people in the Castle District, but it does not mean there could not be a bigger group. Private Segway tours are for more people, if you are organising a group event: please contact us via email to get a quote for a bigger group as the number of Segways are limited in the Castle District, so we will need to get them transported to the Castle District in advance for groups.
Tours are interactive, entertaining, and providing the guests with opportunities to ask questions about Budapest / Hungary. This is the fun thing to do in Budapest for couples, families, friends or even business people, where you do take an active part, and feel great.
Duration of Segway Tour: 2 hour + training time
BOOKING
Terms and Conditions of Buda Castle District Segway Tours:
People using Segways must be able to go up an down on stairs without any help
Kids over 10 years old can use the Segway
Anyone over the weight of 40 kg (90 lbs) and under 130 kg (280 lbs) can use Segways (sorry, no exceptions as the weight limit makes the Segway safe)
Anyone consuming alcohol / drugs will be rejected to take part in the tour (no refund will be given in this case)
Pregnancy may interfere with balance, so expectant moms cannot be part of Segway Tours
Segway Tours are in all weather conditions, refunds/exchanges are not given due to bad weather.
Tour participants will sign a liability waiver form (Children under 18 must have an adult supervisor to sign for them)
Cancellation policy: the tour fee can be refunded if asked 3 days before the tour date (transaction fees will be deducted). Within 3 days of the tour date the tour fee is non refundable. Note: if the refund is confirmed by the Tour manager, the amount of refund is reduced by the PayPal transaction fee.
Meeting Point of Segway Tour in Buda Castle
The Meeting Point of Castle Segway Tour is in the city center on the Pest side (NOT in the Buda Castle District):
1 Aranykez street, Budapest, District V, H- 1052