The Palinka and Sausage Festival is one of the long awaited  events in Budapest in fall. The festival usually takes place in October.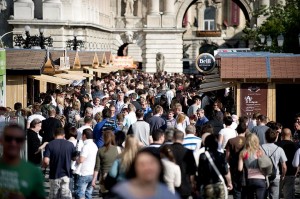 Each year you can enjoy the fantastic palinkas and sausages, along with all kinds of other delicacies, street foods, pastries that are on offer at the Palinka and Sausage festival in the scenic Buda Castle Budapest.
Program of the 2013 Palinka and Sausage Festival
Oct 3, 2013: 2 pm – 12 pm: Thursday program: 6 pm Balazs Szabo Band, 8 pm Surprise Concert Party
Oct 4, 2013: 2 pm – 2 am: Friday program: 6 pm Bohemian Betyars, 8 pm Kerekes Band
Oct 5, 2013: 12 pm – 2 am: Saturday program: 4 pm Zombori Band, 6 pm Rom Ungro Boys, 8 pm Gypo Circus Concert
Oct 6, 2013: 12 pm – 10 pm: Sunday program: 4 pm Galilelo Concert, 6 pm Cimbaliband Band, 8 pm Besh o Drom Concert Party
Palinka is the Hungarian fruit brandy, a strong spirit, which is sort of a national alcoholic drink made from distilled fruits, like apricot, plum, sour cherry, etc. At the festival you can try some of the best home made fruit palinkas, and most exquisite Hungarian sausages, like mangalica sausages and other high quality food products and produces.
Each year the Palinka and Sausage festival features one of the highlighted fruits. The festival is one of the top festivals in Budapest with thousands of visitors from Hungary and abroad. The festival has a nice program with several top tier Hungarian musicians giving concerts in the evenings.
Getting to the Festival is easy with public transportation (buses), or Funicular, or even just walking up / down the Buda Hill.
More about Budapest festivals: Festival Budapest
More about Hungarian Palinka (fun facts)